Lewis Stamper was born November 10, 1918 in a small town in the state of Kentucky. He attended school thru the twelfth grade and was an excellent high school football player. He worked in the coal mines for a short period of time after graduation from high school. He was to begin his college education when our country called and he became a member of the United States Army from which he was honorably discharged.
After his discharge he apprenticed as a Funeral Director. He later married Elva Lee Faulkner and became the owner of a successful saw mill. After the sale of his saw mill he moved his family to Michigan. He worked in the automotive industry until apprenticing as an Iron Worker. He worked as an Iron Worker and Steel Erection Superintendent until his retirement.
During retirement he spent time with the people he loved most, his family. My Dad was a hardworking, religious, family man. He believed God, love of family and a strong work ethic were the important things in life. We dedicate the Stamper Foundation to his memory for all that he stood for, for all that he taught us and for all that he was.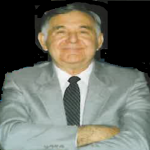 Lewis Stamper
Born: November 10, 1918
Passed: April 17, 1995